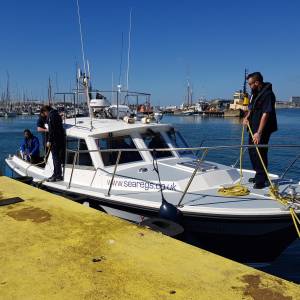 RYA Coastal Skipper Motor is for more ambitious skippers to improve their skills, take charge and learn to make full use of the boat on longer, more complex passages. An important aspect of this course is learning to take command and make decisions resulting in relaxed, well-planned passages and a happy crew.
All RYA Motor Cruising Courses are run through our parent company SeaRegs Training.
Book on a RYA Coastal Skipper Motor course below. Future dates are available, please contact the office for details. 
Price: £1000
Previous Experience: 15 days, 2 days as skipper, 300 miles, 8 night hours
Assumed Knowledge: Navigation to Coastal/Yachtmaster Shorebased level and boat handling to Day Skipper level
Duration: 5 Days
Location: Turnchapel Wharf, Plymouth, Devon, UK
Course Content:
Passage Planning & Pilotage
Preparation for Sea
Ability as a Skipper
Radar
Boat Handling
Adverse Weather Conditions
Emergency Situations
Costs include fuel, a working lunch, snacks, tea & coffee, mooring fees etc. Courses are non-residential so accommodation is required in one of the many hotels or guest houses near the marina. We can provide a list of recommendations.