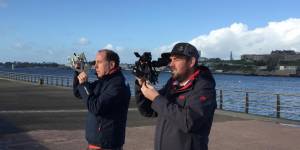 Unravel the mysteries of astro navigation, using a sextant, ocean passage making, worldwide meteorology and electronic navigation aids.
This course is for those aspiring to blue water cruise and is ideal for holders of the Yachtmaster Offshore certificate who are preparing for their first ocean passage. RYA Theory courses are run through our parent company SeaRegs Training.
Please contact the office with enquiries and future dates
Price: £495
Previous Experience: Yachtmaster Theory and Yachtmaster Offshore if going for the exam
Assumed Knowledge: Navigation to Coastal/Yachtmaster Theory level
Duration: 5 days
Location: Turnchapel Wharf, Plymouth, Devon, UK
Course Content:

The Earth & the Celestial Sphere
Practical Guide to use and care of a Sextant at Sea
Meridian Altitudes
Sun, Stars and other Sights
Ocean Passage Planning
Costs include a Student Pack, use of training almanac & plotting instruments for the duration of the course (feel free to bring your own). Courses are non-residential so accommodation is required in one of the many hotels or guest houses near the Centre. We can provide a list of recommendations.
RYA Yachtmaster Ocean Theory Course is also available online: