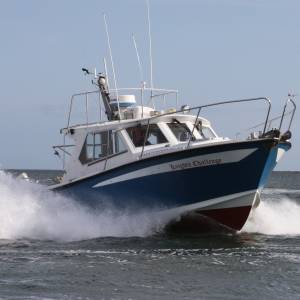 An introduction to motor cruising with the aim of being a useful crew member and being able to assist the helm. Ideal for introducing family and friends to crewing a motor boat or for anyone working on a boat but have little or no experience. Start Motor Cruising courses are run from our Lochin 33 kept at Turnchapel Wharf, Plymouth.
All RYA motor cruising courses are run through our parent company SeaRegs Training
Book on a RYA Start Motor Cruising Course below. For future dates and enquiries, please contact the office. 
Price: £200
Previous Experience: None
Assumed Knowledge: None
Duration: 1 Day (2 days if accompanying another course)
Course Content:
Personal Safety
Seamanship
Dealing with Emergency Situations
Coming Alongside
Picking up a Mooring
Anchoring
Rope Work
Helming
Costs include fuel, a working lunch, snacks, tea & coffee, mooring fees etc. Courses are non-residential so accommodation is required in one of the many hotels or guest houses nearby. We can provide a list of recommendations.
Start Motor Cruising can also be completed on your own boat to gain experience and knowledge helming, crewing and just getting to know a new boat. This is tailored to your needs as well as following the course criteria with one of experienced instructors.