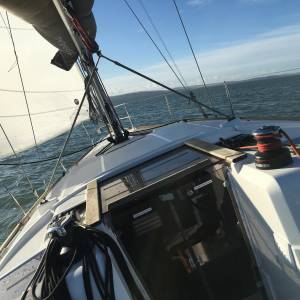 RYA Day Skipper Sail is for aspiring skippers with some yachting experience and basic navigation and sailing skills.
Learn to skipper a short passage with the instructor on hand to give advice and encouragement and ensure your safety. Experience being in charge, taking credit when it all goes well and being responsible when it doesn't.
This course is 5 days long but may also be completed over 3 weekends. Book on a RYA Day Skipper Course below. Future dates are available, please contact the office for details. 
Price: £700 (or 3 weekends at £325 each)
Previous Experience: 5 Days, 100 miles, 4 night hours on board a sailing yacht
Assumed Knowledge: Navigation to Day Skipper Shorebased standard
Duration: 5 Days (or 3 weekend)
Course Content:
Preparation for Sea
Deck work
Navigation & Pilotage
Meteorology
Rules of the Road
Yacht Handling under Power & Sail
Night Cruising
Rules of the Road
Passage Making
Costs include accommodation, all meals whilst onboard (if as a group you opt to dine out one night, this will be at your own expense), mooring fees, use of waterproofs if required.
Optional Extra: