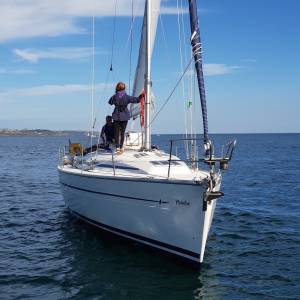 RYA Competent Crew is for beginners and those who would like to become active crew members rather than just passengers.
Experience living onboard and really getting to know the boat. Virtually all the course is hands on. You are the crew – without you sails won't go up and the boat won't be steered. By the end of the course you should be able to steer, handle sails, keep a lookout, and assist in all the day-to-day duties onboard.
This course is 5 days long but may also be completed over 3 weekends.
Book on a RYA Competent Crew Course Below. Future dates are available, please contact the office for details. 
Price: £700 (or 3 weekends at £325 each)
Previous Experience: None
Assumed Knowledge: None
Duration: 5 Days (or 3 weekend)
Course Content:
Sea Terms & Parts of the Boat
Rigging & Sails
Sail Handling
Ropework
Seasickness
Helmsmanship
Man Overboard Recovery
Rules of the Road
Fire Precautions
Meteorology
Costs include accommodation, all meals whilst onboard (if as a group you opt to dine out one night, this will be at your own expense), mooring fees, use of waterproofs if required.
Optional Extra: