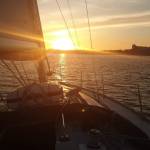 Throughout the COVID-19 period we have continued with a limited training programme delivering online versions of the course where possible. Moving forward, we will continue with a mix of online and face to face training. Our Course Dates page will be updated with which courses are running when and whether online or face to face. We have put in place COVID Course Guidance for participants which need to be followed by anyone attending a face to face course.
MCA/STCW Courses
We have started a limited number of face to face courses for those who need the certificate for work. For the time being the number of people on each course will be kept low to allow social distancing, and following the appropriate guidelines from the Government and awarding bodies.
The MCA have approved our deliver of the One Day Stability, PSSR and Security courses live online, all other MCA/STCW courses are currently face to face.
SQA Radar and Electronic Charts
These two modules are at the moment delivered live online, we have been able to connect our simulators to the internet to allow participants to control the simulators from their laptop/tablet. The final assessments still need to be face to face and we can facilitate this at no extra cost at either our Plymouth or London Classrooms.
RYA Courses
We have been delivering all the navigation courses online, either as a stand alone self study course or live instructor led, we have taken the RYA 1 day Radar course online using our simulators. Other courses online include the VHF/SRC Radio Operator and the PPR for Commercial Endorsements.
With the latest lifting of restrictions at the end of May, depending on the vessel we are able to start own boat tuition and other practical courses.
Bookings will open for practical yacht courses which will initially be run in a different way, if we subsequently are not able to run the course due to Government restrictions we will either transfer you to a later date or refund you in full.