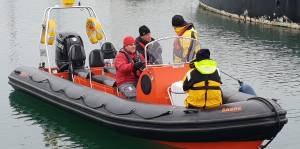 This course is for leisure and professional boaters wanting to undertake more adventurous trips by day and night. It includes navigation at planing speed, weather and other aspects of skippering. Anybody undertaking this course should have practical skills of Intermediate Powerboat level and navigation standard to Coastal/Yachtmaster Theory.
We offer 3 course options:
2 day course completion followed by an exam prep day and exam
2 day course completion
1 day prep with exam
Book on RYA Advanced Powerboat courses below. Future dates are available, please contact the office for details. 
Price: 2 day course completion only – £375
3 day course completion and prep day – £525 (EXAM FEE NOT INCLUDED)
Previous Experience: Course Completion – Intermediate Powerboat or equivalent boat handling level and Navigation to Coastal/Yachtmaster Theory level
Exam– 800 miles, 30 days and 2 as skipper, 12 night hours
VHF/SRC operators certificate and a first aid are strongly recommended
Assumed Knowledge: Navigation to Coastal/Yachtmaster Theory level and boat handling to Intermediate Powerboat level
Duration: 2 or 3 Days
Minimum Age: 17
Course Content:
Preparation for Sea
Boat Handling
Passage Making & Responsibility as Skipper
Pilotage
Meteorology
Rules of the Road
Use of Engines
Emergency Situations
Night Cruising
Costs include use of waterproofs if necessary, refreshments. Courses are non-residential so accommodation is required in one of the many hotels or guest houses near the Centre. We can provide a list of recommendations.
DOES NOT INCLUDE EXAM FEE