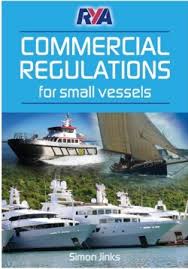 A compulsory online course for new and revalidating RYA Commercial Endorsement holders applicable from April 2012
Each year approximately 4,500 people apply to the RYA for a commercial endorsement in order to use their RYA qualifications professionally as skipper or crew. You could be doing anything from delivering a new 35′ yacht or driving a workboat with lifting and towing gear, to running a super yacht in the Med. Whatever your job is on board, in the commercial world you are a professional seafarer. As such, you are no different from the captain of a cruise liner- you have a duty of care to crew, passengers, and other water users, and you will be held accountable if things go wrong.
Price: £39
Previous Experience: None
Assumed Knowledge: None
Duration: At your own pace
Applying for a Commercial Endorsement
In order to obtain you Commercial Endorsement you will need to send to the RYA:
A fully completed Commercial Endorsement Application form
Your printed PPR certificate
A completed ML5/ENG1 medical form
Your original practical certificate to be endorsed
A copy of your RYA Basic Sea Survival Certificate or STCW Personal Survival Techniques
A passport size photo of yourself
The £35 application fee
In addition, if you wish to obtain a Commercial Endorsement on a Powerboat Level 2, Day Skipper or Advanced Powerboat you will also need to send the RYA along with the above:
A valid STCW Elementary First Aid, RYA First Aid, or SeaFish First Aid certificate
A VHF/SRC Radio Operators Licence
Why choose Plymouth Sailing School to do the PPR course?
A number of schools are able to offer the course through RYA Interactive. Simon Jinks, Plymouth Sailing School's Chief Instructor has helped with the development of this new course and is also author of the RYA Commercial Regulations – Small Vessels, one of the latest books from the RYA and specifically designed to accompany the course.
The course can be completed anywhere, anytime provided you have a PC, Mac or iPad (iOS 6 or above) and internet access. There are a number of documents you will need to view online or download, some people find it easier to have a printed copy of MGN280 to hand. As with all RYA Interactive courses offered by PSS, email help and guidance is available should you need it.
How to Enrol
Enrolling is easy, send an email or phone 01752 493377 to let us know you wish to take the course. Pay the course fee securely online through WorldPay by clicking by clicking the Buy This button or let us know if you'd prefer to pay by bank transfer.
Please allow time for our office staff to manually register you during work hours.
We will then register you on RYA Interactive and email you with your log in details. When you access the RYA Interactive site for the first time you will be asked to complete a simple form before you can start your course.
Upon successful completion of the final assessment you will be able to print out your certificate.
RYA Interactive Course Access Details
To enable access to your online course we need to share some of your personal data with the RYA via your user profile in RYA Interactive. This learning management website is hosted and maintained by a third party called Learning Pool, who will not use your personal information for any reason other than enabling your course.
Your name and email address will be entered on RYA Interactive in order to create your user account. On your first access to the site, you will be asked to enter your address and date of birth. You will have access to the site for one year in order to complete your online course. During this period, your personal information will be held on the website by Learning Poll and be available to this training centre and the RYA for the purpose of managing your course.
Instructional support will be provided by this training centre for the duration of you course booking.
On completion of your course, your name, email address, date of birth and address will be transferred to the RYA's central database for the purpose of recording details of the course and any certification you gain as a result of it. This information allows the RYA to record your certification, to update any records they may already hold about you or your qualifications and to verify your certificate if required. After one year from the date of your enrolment on the course your user account will be removed from RYA Interactive.
Full details of how the RYA will deal with your personal information will be displayed when you first access RYA Interactive