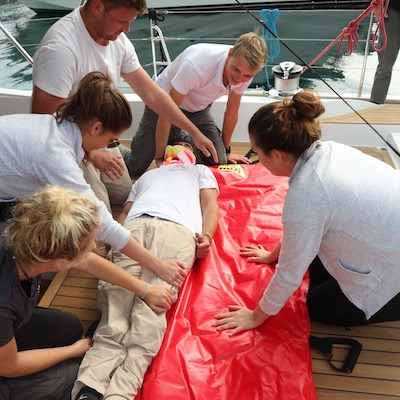 We have both RIBs (fast, sports boats) and yachts available. You can use both to give a varied experience.
A few days relaxing on a boat with the people you work with can be a remarkably effective management tool and also the best stress relief remedy around!
There is no better platform for the purpose of improving communication skills, building team spirit and promoting the important aspects of cooperation between departments.
It is not actually necessary to set up complicated and sometimes false roleplay events, the sea is the perfect training ground and mother nature does most of it for us!
We have run a number of highly successful events intended as either rewards for hard working staff or opportunities to increase efficiency and communication. Please just ring to discuss your individual needs and we will arrange a day, a weekend or longer to set the stage for you and will provide an appropriate number of very experienced staff to make sure the objective is achieved.
We hope that you can find the information you require on these pages, if you have any further questions, or require advice, please call us.