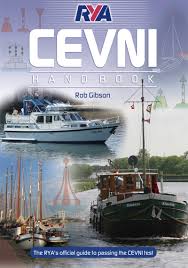 Anyone requiring an ICC valid for inland waters must pass the CEVNI Test. A valid ICC is often required for cruising Europe's inland waters. To validate your ICC (International Certificate of Competence) for inland waters you must take the CEVNI test, which checks your knowledge of the rules and signs that skippers of pleasure craft are expected to know and follow.
The "RYA European Waterways Regulations (the CEVNI rules explained)" publication G17 provides the information you need to learn the code in a clear and concise way.
Price: £20
Previous Experience: None
Assumed Knowledge: European inland waterway regulations
Duration: At your own pace
There is a practise test which you can try as many times as you like and your score won't be recorded. When you feel ready to take the real test you will get 2 attempts to pass each section. Once you have completed the CEVNI test, you will be told immediately whether you have been successful or not. Follow the on-screen instructions for details of how you get your ICC validated for inland waters.
How to Enrol
It is possible to take your CEVNI test online, anywhere, anytime as an alternative o the paper-based test.
Enrolling is easy, send an email or phone 01752 493377 to let us know you wish to take the course. Pay the course fee securely online through WorldPay by clicking by clicking the Buy This button or let us know if you'd prefer to pay by bank transfer.
Please allow time for our office staff to manually register you during work hours.
We will then register you on RYA Interactive and email you with your log in details. When you access the RYA Interactive site for the first time you will be asked to complete a simple form before you can start your course.
RYA Interactive Course Access Details
To enable access to your online course we need to share some of your personal data with the RYA via your user profile in RYA Interactive. This learning management website is hosted and maintained by a third party called Learning Pool, who will not use your personal information for any reason other than enabling your course.
Your name and email address will be entered on RYA Interactive in order to create your user account. On your first access to the site, you will be asked to enter your address and date of birth. You will have access to the site for one year in order to complete your online course. During this period, your personal information will be held on the website by Learning Poll and be available to this training centre and the RYA for the purpose of managing your course.
Instructional support will be provided by this training centre for the duration of you course booking.
On completion of your course, your name, email address, date of birth and address will be transferred to the RYA's central database for the purpose of recording details of the course and any certification you gain as a result of it. This information allows the RYA to record your certification, to update any records they may already hold about you or your qualifications and to verify your certificate if required. After one year from the date of your enrolment on the course your user account will be removed from RYA Interactive.
Full details of how the RYA will deal with your personal information will be displayed when you first access RYA Interactive